Hey runners! Welcome to our first ever Doctors of Running monthly roundup. This is our chance to catch up on what's been going on with the team and share some exciting things we have ahead.
NEW AT DOCTORS OF RUNNING



Reviews

Saucony Ride 14: Solid 2020 performer stays true with refinements to the upper
Saucony Freedom 4 Review: Big update with PWWRUN PB, same as the infamous Endorphin Speed
Reebok Floatride Energy 3.0 Review: A softened, smoothed ride thanks to a wonderful bevel
Hoka One One Carbon X 2 Review: The ultramarathoner shoe returns with big updates
Rabbit Cold Weather Collection Review: Soft, cozy running clothes you'll want to finish winter with
ASICS GT-2000 9 - The latest in ASICS long running stability trainer line
ASICS Hyper Speed - Fast and fun racing flat returns after a hiatus with lots of stack added
Mizuno Wave Inspire 17 - The latest update to the stability trainer gets their new lively Enerzy foam

Podcasts

Episode 36: Karhu's Jordan Kinley on Past, Present, and Future of the Finnish Running Brand
Apple | YouTube
We had the pleasure of sitting down the Jordan Kinley of Karhu. He brings us through the long and rich history of the brand and the technological developments that have been happening within the brand for a long time. He also give a look into what is in store for 2021 in Karhu. Oh, and if you didn't know...they have a kickin' lifestyle line of shoes and clothes.

Episode 35: Saucony Freedom 4 Review
Apple | YouTube | Review
Today we dissect our testing experience of the new Saucony Freedom 4, which is the first non-plated shoe to sport their PWRUN PB midsole that was found in the Endorphin Pro and Speed. We also dive into how Saucony managed to stabilize such a bouncy and softer foam. We also take a lot of time to compare to the Kinvara 12, it's older and more traditional cousin. Both great options -- just depends what you are looking for. Take a listen for all the details!


Episode 34: Hoka One One Carbon X2 Review
Apple | YouTube | Review
The Carbon X2 was designed to help break the 100K world record. We dive into our testing experience and then the science behind this shoe...and there is a lot of it. Also find out which childhood snack this shoe reminds us of.


Episode 33: Saucony Kinvara 12 Review
Apple | YouTube | Review
Hello everyone! Today we talk the versatile and cult followed performance trainer Saucony Kinvara 12. The shoe received updates to the midsole and the upper to create a fun and enjoyable natural ride that can handle some uptempo work as well.


Episode 32: Saucony Hurricane 23 Review
Apple | YouTube | Review
The roundtable today is all about the premium stability trainer by Saucony -- the Hurricane 23. For lovers of the bouncy but heavy PWRUN+ foam who like some moderate-maximal stability, this may be a great option. Plus find out which National Park this shoe reminds us of.

Episode 31: Recap and 2021 Dreams (100+ mile review for Symmetros, Adizero Pro, and Kayano Lite)
Time for 2021! In this episode we recap 2020 for DOR and some personal goals that we met. We then shift to our hopes for 2021. Next we transition to some long term reviews for shoes we have over 100 miles in. And finally we dig into the "hierarchy of evidence" and how that informs how we make, and how you should interpret, our recommendations.


REVIEW UPDATES


Saucony Kinvara 12
: Contributor Nathan Brown adds his update to the infamous Saucony trainer
"The K12 is a very natural running performance trainer that still has protection for some training and longer runs. A stripped down and locked-in upper, sleek design, and a smooth midsole design create a versatile, quick, and smooth running shoe."
On Cloudflyer
: Contributor David Salas provides his thoughts on the lightweight stability shoe
"The On Cloudflyer is a light to moderate stability daily training shoe. The upper is constructed very well throughout with many small details. The geometry is constructed with a rocker design with a firmer midsole throughout. The stability mechanisms are done primarily with geometry and the unique design that On brings to the table."
Brooks Adrenaline 21
: Additional feedback on the legendary stability trainer by reviewer David Salas
"The Brooks Adrenaline GTS 21 continues to be a reliable and comfortable shoe that will work for many people. The shoe feels like a traditional stability trainer that has expanded and grown to incorporate some modern twists for further improvement and refinement. Utilizing a GuideRails system instead of traditional posting makes this shoe very nice in transition and makes the "Go To Shoe" a title that is definitely in consideration."
IN FOR TESTING
ASICS EvoRide 2
Coming in at 8.2 oz, 232 g men/6.8 oz 193 g women, the EvoRide 2 makes impactful refinements to the first edition including 26 mm of flytefoam cushioning in the heel and 21 in the midsole (25mm/20 for women), full ground contact AHARPLUS outsole, and a cleaner engineered mesh upper. Contributor David Salas is excited to test out the Guidesole technology in the EvoRide 2 and put it through some fast and fun paces.


On Cloudventure Peak
We continue our testing of On Running with their lightweight trail racing shoe. Coming in at 9 oz, 260 g for men and 7.41 oz, 210 g for women with a 4mm drop, the shoe features a unique Missiongrip rubber outsole for tackling trails quickly and confidently. Full review from editor Matt Klein in the coming weeks.
The North Face VECTIV Infinite
The middle child in North Face's new trail shoe line, the Infinite features a healthy dose of cushioning, a unique, ultra stable PEBAX plate, a rocker for smooth transitions and tons of surface control rubber to keep you protected and going for miles in the woods.

First impressions from editor Matt Klein: "The TNF is really interesting. The plate comes up around the medial and lateral heel/midfoot. Feels like guiderails. Really supportive."


ASICS GEL Trabuco 9
An overhaul from top to bottom, the Trabuco 9 is a neutral cushioned trail trainer with a hefty amount of flytefoam under a comfortable new upper. On the bottom is their new ASICSGRIP rubber, meant for extra traction when moving up and down hills with ease.

Also do we need to keep saying that Asics is crushing the colorway game?


Skechers Horizon Vanish 2
Featuring an ultra light, ULTRA FLIGHT midsole at 5.5 oz, 156 g (men's size 9) m/ 4.4 oz, 125 g (women's size 7) for fast workouts and race day. Solid 29 mm in the heel and 25 mm in the forefoot along with Goodyear rubber outsole for extra grip and durability.

Thanks to Skechers for providing the The Horizon Vanish 2 for testing!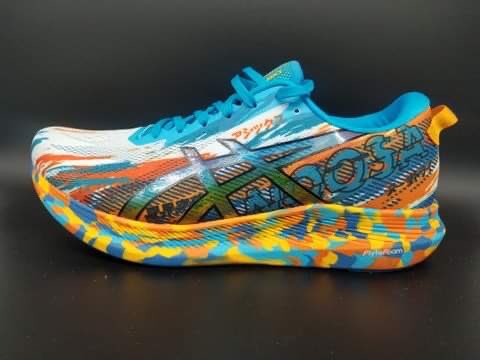 ASICS Noosa Tri 13
Sure we can talk about the Guidesole edition, evo/glideride comparisons, even the sustainable sock liner dye, but we're just here for the colorway right now.



Reebok Run Fast 3.0

Featuring a new performance fit upper similar to the Energy 3.0 that helps shed a bit of weight from the previous version (7.7 oz to 7 oz, 199g). Initial step in feels secure and well-wrapped around the foot with a touch of light padding in the heel area.


DURABILITY UPDATE

ASICS Kayano Lite
LONG TERM DURABILITY (>175 mile) UPDATE

Editor Matt Klein
: I have 180 miles on my pair currently and have still have plenty of outsole rubber left in the heel and forefoot. The ride has changed little over this period, although some of the original snappiness has decreased. This continues to be a very comfortable shoe for long runs, easy runs and some longer workouts. The upper has remained very comfortable and continues to provide a slightly wider but secure fit. I still do not have to lace lock the shoe. The stability has remained consistent and continues to be very well integrated. I do not notice this is a stability shoe when I put my foot in, but definitely do by the ends of long runs when I continue to feel great and stable. The cushioning has remained fairly consistent and has softened ever so slightly. There is still plenty between my foot and the ground. I expect MANY more miles out of this shoe, far beyond the normal 300-500 most shoes will see.
In 2021 we hope to continue extending our long term durability testing for shoes we love or feel people could benefit from having a long term durability review for. Let us know on our social media what shoes you'd like to see over 100, 150, or even 200 miles!

SCIENCE FRIDAY

Each Friday on our Instagram and Facebook we are excited to be sharing different discussions on shoe science between our team members and down the line with members of the running community. Check out our recent post by contributor Nathan Brown on Rocker Soles!

ROCKER SOLE SHOES

"If you take a look around the running shoe world, you'll notice that many brands are incorporating a "rocker sole" design in their geometric design (HOKA, Saucony with SpeedRoll Technology, ASICS Glide/EvoRide, etc). Rocker soles may include both a heel bevel and toe spring, or at upward trajectory of the shoe at the toes. Much of the theory behind this design is to have the shoe mimic the heel, ankle, and forefoot rocker that naturally happens during the gait cycle.

In theory, shoe companies are designing this to decrease demand on the ankle/calf and potentially improve running economy. We've had people ask: Does it actually work? If you're decreasing demand on the ankle will your ankle get weaker? Does it affect your gait?

Well, we don't have definitive answers from the literature. We do have studies that show changes in loading in the forefoot (ball of the foot) with rockered soles. The important piece is to have both the right angle of the rocker as well as the right firmness of the midsole foam. When combined correctly, it has been shown to decreased forefoot loading during gait. The other piece to consider is where the rocker begins. HOKA has an early stage rocker, which will mimic the ankle rocker and be potentially helpful for people with ankle motion limitations. The ASICS GlideRide has a late stage rocker, which may be helpful for offloading the big toe and metatarsals by mimicking the forefoot rocker.

As always, something with a drastic change from what you typically use will place new loading through the body and will take time to accommodate to. Using rocker soled shoes all the time may not create marked weakness in the foot/ankle, but you may have a hard time transitioning back to a more typical shoe after prolonged use. As you've heard us say before: shoes are tools!"

MEET THE DOCTORS: CONTRIBUTOR NATHAN BROWN

Nathan Brown (PT, DPT, MS)


Our Wisconsin native Nathan Brown not only plays a big role in reviewing, but also contributes to ton of incredible work behind the scenes at Doctors of Running to help keep the engine going. All of it on top of his work as a physical therapist at Point Forward Physical Therapy.

Here's Nathan on why he chose to go into PT:
"Physical therapy is such a special profession. Yes, I get to nerd out on biomechanics, pathoanatomy/pathophyisiology, pain science, and orthopedics...but the real joy is the relationships I've built with the people I get to work with. I get to work with my patients to develop strategies to help them alleviate pain and return to the things they love to do. Along the way, I get to grow deeper into my community and contribute to the health of it. My clinic in particular is a blast since I also get to engage with a lot of runners, evaluate running to recover from or avoid injury, and nerd out on shoes with them."
COMING SOON

Lots more coming soon at Doctors of Running! We have an exciting podcast interview with Karhu, more reviews, and new programming as we continue to grow and evolve at DOR. Make sure you follow us on all of our social media to stay in touch with the latest. Happy running!
Like and Follow Doctors of Running
Interested in purchasing any shoes reviewed here? Visit the links below and shop with Fleet Feet or Running Warehouse! Using the link to shop helps support the work at Doctors of Running. Thanks so much!