Skechers GOmeb Speed 5 Review
The GOmeb Speed 3 was a favorite shoe of mine. I was somehow able to use that shoe for workouts as well as marathon distance runs through the mountain roads up toward Mt. Baldy. The GOmeb Speed 3 2016 updated the upper and performed very well as a versatile distance racer. The GOmeb Speed 4 kept the design a little more snug and firm, but to me they felt a little heavy and stiff. The Speed 4 felt more like long distance racer confused with short distance racer and a true 5k-10k racer was missing. The Speed 5 completely fills that gap as the Razor 2 (
REVIEW
) fills the long distance racer spot. The Speed 5 has dropped a great deal of weight thanks to the FLIGHT GEN midsole and is now one of my favorite short distance racers. Even though I have used it for long distance races (10 mile, 10k). Why? Let's talk.
Specs
Weight: 5.8 ounces
Drop: 4mm (18/14)
Classification: Racing Flat
Upper/Fit
The fit is very much that of a racing flat. The upper fits snug with more traditional synthetic upper materials instead of GOknit to provide a secure fit for faster paces. The upper does run slightly narrow but the mesh around the forefoot stretches to a degree.
The laces on the GOmeb Speed 5 are very thin. They stayed tied well despite concerns they would come undone. The upper is thin as well and I was slightly concerned about durability. However, with my average width foot, after 80 very aggressive miles I have had no issues with the upper. It has remained durable but I would be careful for those with excessive foot motion.
There is an external heel counter in the posterior section. I really like external heel counters as they do not rub against my sensitive achilles tendon insertion as much and I did not have any issues with rubbing. This contributes a bit to the snug hold on the foot. The counter is not extremely stiff, so I would not worry about rubbing.
The fit is very true to size. Those looking for a racing flat fit should probably go with their normal size. I have taken these up to a half marathon distance and have not had issues. Those with swelling issues may want to go up to a 10.5, but I stayed with my normal 10.0.
Sole/Ride
With the addition of FLIGHT GEN to the midsole, the GOmeb Speed 5 continues to run close to the ground but has more rebound in the sole compared to the previous version. The plate combined with the new midsole work together to pop you forward when the pace picks up. The plate is more in the midfoot like the previous version and helps with most transitions, but the FLIGHT GEN in the forefoot is really what makes the shoe pop during toe-off. The sole is more forgiving that version 4 and has more give to it. This does not translate to softness but instead more rebound from the sole (FLIGHT GEN again).
The weight has dropped significantly. A drop to under 6 ounces (5.8) really makes this shoe fly as a 5k-10k racer. This has been Edward Cheserek's shoe of choice for mile and 5k races and I can understand why. There is just enough cushioning to protect you during road miles, but it is close enough to the ground to feel fast. I have used this shoe in distance races recently as I have not been running 5ks, but this has been my go to speed and track shoe due to the lightweight and highly responsive feel. For those looking for a versatile racer, the GOmeb Speed 5 is worth a look being able to handle mile to half marathon distances for most (some will be able to use it up to the marathon).
The insole is perforated with little holes throughout the length of the shoe. I assumed this was for drainage, but it actually made me more worried about blisters. What it ended up doing was giving more traction for my foot and helped with the lock down. During a 10 mile race I used these for (55:51), I had no blistering and was surprised how well my foot stayed on the platform.
Durability has been fantastic for a racer. There is only mild wear at the posterior lateral heel after 80 miles. The FLIGHT GEN has maintained a great deal of the feel and responsiveness. So expect a high number of miles out of this flat. I have a brand new pair that I have yet to break in because the old one keeps going.
Thoughts as a DPT
Most people know about the plantar fascia, the large band of connective tissue on the underside of the foot. Most are not as aware of the other thick ligaments of the plantar arch. These include the spring ligament (plantar calcaenonavicular), long plantar ligament (long calcaneocuboid) and short plantar ligament (short calcaneocuboid). These ligaments are deep passive stabilizers and along with the peroneus longus and posterior tibialis stabilize the midfoot.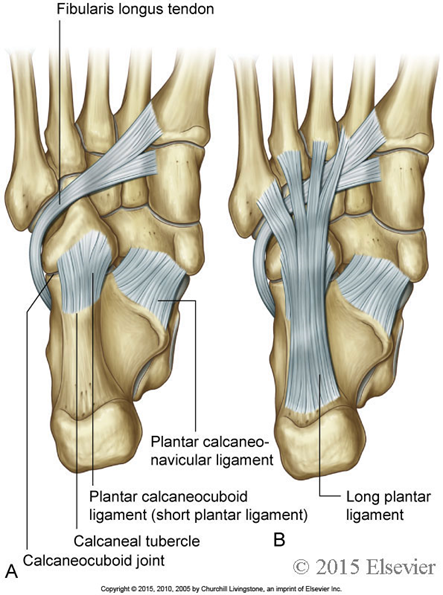 Image from www.memorangapp.com
If these ligaments are loose, this is where one might see a collapsed or hypermobile arch. In that case, it is extremely important that the individual have high muscular levels of strength and stability (due to the lack of passive stability). Plenty of people get away with this but they need to have a maintenance program to keep this area (as well as the hip rotators) very strong. For those with extremely stiff ligaments, extra care needs to be taken in regards to joint mobility and shock absorption. Midfoot mobility is an important part of shock absorption during the loading phase of gait. Without it, extra stress will be placed elsewhere. Pronation is important in the right amount. So like anything, there is a balance between hyper and hypo mobility.
The placement of the plate in the GOmeb speed 5 is in a similar spot to these ligaments. Likely attempting to provide some midfoot stability as well as assisting with the forward roll of the foot. These are extremely important components of the foot, but just because there is a plate in the shoe or some kind of propulsive or stabilizing element does not mean you should neglect your strength and stability work.
Room for Improvement
I have mentioned this previously, but I would like to see the plate extend a little into the forefoot. I personally am a fan of the Adios series with the split forefoot torsion plate for balance between the medial and lateral aspects of the forefoot. I would be curious to see how that would affect a shoe like this (like the original Takumi series, the Tartherzeal and a few others).
Conclusion
The Skechers Performance line is now complete with a neutral trainer (
Ride 7
), stability shoe (
Forza 3
), distance racer (
Razor 2
), lightweight/minimal trainer (GOrun 6), and now a fast racer Speed 5. For those looking for a 5k-10k (possibly up to half to full marathon and definitely down to the mile) racer with a responsive ride, a plate and a snug fit, look no farther. The sole is responsive and a little protective for a variety of workouts or races. The upper holds the foot well and is extremely lightweight. This shoe is a great example of the very serious direction Skechers Performance continues to take. I highly suggest taking a look at this shoe.
Thanks for reading and don't forget to tack on!
As always, my views are my own. My blog should not and does not serve as a replacement for seeking medical care. If you are currently injured or concerned about an injury, please see your local running physical therapist. If you are in the LA area, I am taking clients privately for running evaluations based on my Orthopedic Residency schedule.

Dr. Matthew Klein, PT, DPT
Doctor of Physical Therapy
Casa Colina Orthopedic Resident
Kaiser SoCal Manual Therapy and Sport Fellow 2018
***Disclaimer: These shoes were provided free of charge in exchange for a review. I put at least 75 miles on trainers and 25 miles on racing flats. Currently my pair of Skechers GOmeb Speed 5s have 80 miles on them. A big thank you to Skechers Performance for including me in the development of such fantastic performance shoes. The Skechers GOmeb Speed 5 will be available January 2018. I hope this and the rest of the Skechers Performance 2018 line convince local running stores to consider carry this brand.
Like and Follow Kleinruns DPT
Please feel free to reach out, comment and ask questions!