Adidas Adizero Adios Pro Initial Review
While Adidas released their recent (there are previous ones from many years ago) carbon fiber shoe, the Adidas Adizero Pro (
REVIEW
), the release of their "Super Shoe" has been hotly anticipated. The small initial release came through a lottery system, which I failed to be selected for. Determined to get my hands on a pair as a gift to myself for finishing the first year of a full time PhD program, I managed to get one through StockX. After almost a month of waiting, they arrived. As a lover of the Adizero Pro, I was hoping this shoe would redeem the disappointment of the Adios 5 (
REVIEW
). For those wondering, the Adios Pro does redeem this series, but it is a VERY different shoe now. What you see is a unique addition to the marathon racing category: A high stack height, super stable (like almost feels like it belongs in a stability shoe category), but still adequately cushioned (unlike the
Brooks Hyperion Elite
) marathon racing shoe with a very unique plate(s) design. Here are my initial run thoughts.
Specifications (per Running Warehouse)
Weight: 7.9 oz (men's size 9)
Measured Weight: 9.4 oz (Men's size 10)

Stack Height: 39 mm / 31.5 mm
Drop: 8.5 mm
Classification: Marathon Racing Shoe
FIT
Matt: The Adidas Adizero Adios Pro fits me true to size in my normal size 10. The upper is a full Celermesh upper that is thin, breathable and see through. The fit is fairly snug in the heel and getting these on can be a little challenging. The midfoot is also slightly snug, but thanks to extra lace holes can actually be adjusted with different lacing! I have never seen this before and think it is a really cool addition. So depending on how much room you want, you can modify the laces.

The forefoot actually fits a little wide, with plenty of room for the toes. The mesh sits low, so it still feels very secure up front. There is a super small heel counter in the very rearmost portion of the heel. It is even smaller than the one in the Adizero Pro, so those with sensitive heels should definitely check this shoe out. The tongue is stitched in, so does not slide at all. I had some bunching initially as it fits just a bit short, but it totally disappears on the run. Of all the recent marathon racing shoes, this upper is my favorite.

RIDE
Matt: The Adidas Adizero Adios Pro has a super smooth beveled ride with one of the strongest posterior lateral bevels I have seen. The heel is super smooth that transitions into a stable midfoot and strongly rockered and wide forefoot. As someone with a bit extra ankle motion, the heel does feel very stable and guided as you roll forward (see the stability section for more on this). The toespring is pretty intense as the forefoot is very stiff. The toespring is so intense that the drop feels very low, far lower than the listed 8.5mm. I initially felt like the drop was similar to the Newton shoes I have been testing recently and that front feels like one big lug/speed bump at slower paces. At faster paces this actually feels really good to hit, but those that are sensitive to low drop shoes should be aware of this. This may almost be due to how stiff the forefoot is from the stack height and energy rods. Like the Adizero Pro, you need to run faster and put a large amount of force into the forefoot to engage the energy rods. The more force you put, the faster you will go. Like many of these shoes, there is a optimal technique to best utilize the shoe, so there is a learning curve. The Lightstrike Pro is on the firmer side and feels like a less dense Lightstrike foam. This was immediately familiar to me and reminded me of (as mentioned) a less dense form than the SL20. There is give to the sole, but the ride is definitely firmer than PEBA or PEBAX foams. This certainly is not either of those. It is still a good foam, but do not expect as much bounce. This is more a smooth and efficient ride that almost reminds me of a higher stack and more aggressive Hoka Carbon X.

SPEED
Matt: The Adidas Adizero Adios Pro is definitely a marathon racer. While the heel bevel, toe spring and plates make for a super smooth and efficient ride that feels lighter than the measured weight, the Adios Pro is too bulky and the Lightstrike Pro foam is not responsive enough for anything below half marathon pace. As mentioned earlier, Lightstrike Pro feels like a less dense version of Lightstrike foam. It is a bit firmer and still has some give, but rockered design and plates are what give this shoe kick when you push it. That kick though tops out at steady paces and is difficult to push faster. As a marathon or even road ultra shoe, the Adios Pro shines. For marathon pace runs, uptempo long runs, long runs and fartleks, the Adios Pro shines. For anything else or faster, I would reach for the Adizero Pro or Takumi Sen.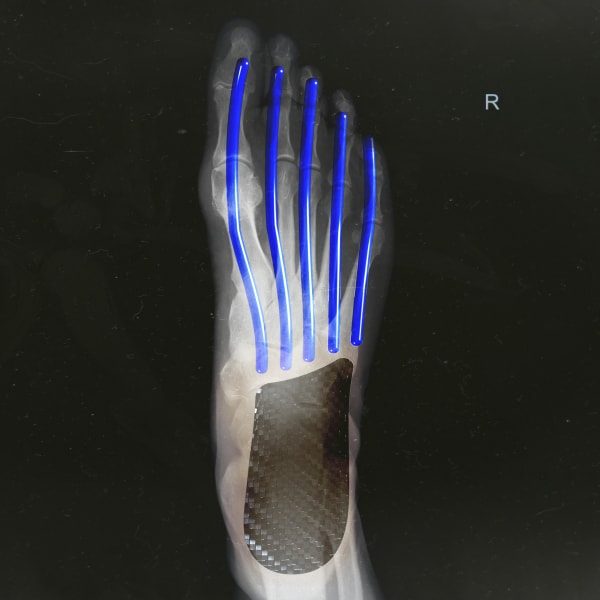 Image from Adidas

STABILITY
Matt: The Adidas Adizero Adios Pro may be the most stable marathon shoe I have tried.The strong posterior lateral bevel guides the foot during heel strike, the carbon plate in the rearfoot almost acts like an post/wedge (especially combined with that super strong lateral bevel). For those that are sensitive to wedging or posted shoes, you may want to approach this shoe with a bit of caution. For those looking for a high cushioned marathon racer with stability, this is your shoe. The carbon plate in the rearfoot almost feels like a medial wedge, which combined with the strong posterior lateral heel wedge gives rearfoot landings a lateral pitch. For someone like myself with extra motion toward the medial direction (pronation), this feels great and like a mild stability shoe. If you are sensitive to this, be careful. The carbon fiber plate runs from the heel into the midfoot, while carbon infused rods follow the metatarsal and phalangeal bones of each of the 5 rays of the foot. This may allow the heel and forefoot to work a bit independently (although given how thick the sole is, that gap between the rods and plate may not matter) and follows the anatomy of the foot to facilitate forward motion. The midfoot does not narrow and instead follows through into a very wide forefoot. The energy rods and toe spring in the forefoot really push a forward progression. The combination of the rods with the wider forefoot and strong toe spring again make for a very stable front and toe off. The sole, while having some give to it, is fairly stable. This is firmer foam than PEBA/PEBAX foams and is far more stable. So again, those looking for a borderline stability marathon racer should take a look at the Adidas Adizero Adios Pro.

DURABILITY
Matt
: I only have 7 miles on these so far and was terrified to put miles on a shoe this beautiful. After some initial mileage though, the wear is minimal but the smooth black and white sole is very dirty. The upper looks great and Celermesh tends to last a long time. I am a little nervous about some of the wear on the posterior lateral heel, I will need a great deal more mileage to full determine durability. Despite not appearing to have any traction on the outsole, the material used acts like sand paper. The grip is actually really good, even over wet pavement. So for those concerned, do not worry about that.
COMPARISON TO ADIDAS ADIZERO PRO

While sharing similar names, the Adidas Adizero Adios Pro and Adizero Pro are very different shoes. The Adios Pro fits true to size while the Adizero Pro fits a little long. Both shoes feel very stable and have unique elements that provide that. The Adios Pro wins on the stability front and again feels like a it almost fits in a stability shoe category. There is more room in the forefoot in the celermesh upper of the Adios Pro, while the Adizero Pro fits a little more snug. Ride wise, the Adizero Pro is more versatile as a lightweight trainer/workout shoe combo due to the less aggressive toe spring and a little more bounce from the Boost. The Adizero Pro feels better as a lightweight trainer and hammering 10k pace. The Adios Pro has a pretty unique stack height and rocker that makes it best for long runs and marathon paces. Both shoes do need a little push to engage the plates, but the Boost/Lightstrike combo in the Adizero Pro does give it a bit more kick at faster paces, while the smoother design of the Adios Pro make it better for steady marathon paces. Essentially, the Adios Pro is more specialized.

CONCLUSION
Matt: I am both happy and disappointed with the Adios Pro. This is the most stable of the max cushion marathon racers that I have run and those looking for stability should take a look at the Adios Pro. Like previous versions of the Adios, the Adios Pro is not the lightest racer out there. It does have enough cushioning that it can be used for long runs, marathon pace runs and even uptempo runs. The bulkiness and lack of extra pop from the Lighstrike Pro does limit this shoe to paces above marathon pace unless you are extremely strong and put enough force into the ground to fully engage the plates. So this design works really well for my body. However, the Lightstrike Pro is not a super foam. There is a very unique carbon design that is different than other shoes in this category, but while I like the foam, it will not give you the same edge as PEBA/PEBAX foams. So while this is a max cushion marathon racer, I would not put this in the super shoe category. The Adidas Adizero Adios Pro is a steady pacing, super stable, max cushioned marathon racer similar to the Hoka Carbon X that will provide more stability and cushioning for those who need it. For those looking for higher speeds, you will likely need to look at the Adios Pro, Takumi Sen or others.
These are my initial thoughts. Check back soon after I get more miles on these for a full review!

TESTER PROFILES
Dr. Klein is a 140 lb male with notable PRs of 14:45 for 5k and 2:32:44 for the full marathon. He typically runs 70-100 miles per week and trains at a variety of paces from 8min per mile recovery runs to 4:40 per mile 1k repeats. He prefers firmer and responsive shoes with snug heels and medium to wide toe boxes. He is particular to less cushioned shoes and close to the ground shoes, but can handle a little cushion when he gets beat up. IG handle: @kleinrunsdpt
Thanks for reading!
Editor's Note: As always, the views presented on this website belong to myself or the selected few who contribute to these posts. This website should not and does not serve as a replacement for seeking medical care. If you are currently injured or concerned about an injury, please see your
local running physical therapist. If you are in the Los Angeles area, I am currently taking clients
for running evaluations.
Matthew Klein, PT DPT OCS FAAOMPT
Doctor of Physical Therapy
Board Certified Orthopedic Clinical Specialist
Fellow of the American Academy of Orthopedic Manual Physical Therapists
Nathan Brown PT DPT MS
Doctor of Physical Therapy
Masters in Anatomy and Clinical Health Science
Movement Performance Institute Certified in Advanced Functional Biomechanics
David Salas PT DPT CSCS
Doctor of Physical Therapy
Certified Strength and Conditioning Specialist
***Disclaimer: These shoes were purchased for above their full retail price from StockX. This in no way affected the honesty of this review.
We put at least 35-75 miles on trainers and 10-25 miles on racing flats prior to publishing a full review. Currently I have 7 miles on my pair as this is an initial review. A full review will follow when I have put an appropriate number of miles on them. Our views are based on my extensive history in the footwear industry and years testing and developing footwear. If you are a footwear rep looking for footwear reviews or consultations on development, we are currently looking to partner with companies to assist, discuss and promote footwear models. Partnership will not affect the honesty of our reviews.
Like and Follow Doctors of Running
Please feel free to reach out, comment and ask questions!