361 Spire 3 Review
361 has been unique when it comes to marketing. Their recent campaign for the Spire 3 has been "Runners care about miles, not likes." Which personally is true. Perhaps it is my hipster-ish tendencies (I am originally from Portland, OR), but I tend to gravitate toward shoes that may not have a ton of hype around them (yet). Why? Because I like exploring different things. Hence why you may see so many Japanese only racing shoes reviewed here. The Spire 3 is different in that it is a neutral trainer with a carbon fiber plate in the midsole. I enjoyed the previous version but felt like it was a little outdated due to the use of a very thick midfoot shank. Seeing the full ground contact outsole got me very excited for the Spire 3. And while it did deliver, there were some other interesting things that came up...
Specifications (per 361)
Weight: 10.4oz
Stack Height: Unknown at this time (will update)
Drop: 9mm
Classification: Neural Trainer
FIT
Like many 361 shoes, the Spire 3 fits on the narrow side. There is a wide version available, but know that those with narrower feet will love this shoe. I was sent a size 10 and that fit just slightly long. Not enough that I would size down, but know you may have some slight extra length. This did not bother me at all on runs as I forgot about it as soon as I started training in them.
The heel and midfoot fit fairly normal, with a very solid heel counter present to hold the rearfoot. Luckily there is some upper cushion between the heel and the heel counter, so those with haglund deformities shouldn't worry too much. The midfoot has 361's Fitz-Rite, which does a decent job of holding the foot down if you snug down the laces. The forefoot is definitely on the narrow side, but not to a terrible degree. Many with narrow to normal width feet will do fine, but those with wider forefeet may have a little too much pressure on your toes. The upper, especially at the front is mesh with minimal overlays, so there is some stretch and give.
There is a toe guard present but it is somewhat flexible. I actually had more success with fit wearing these sockless, but would not suggest that for longer runs.
RIDE
Thanks to the large amount of QU!CKFOAM throughout the midsole combined with a carbon fiber plate, the Spire 3 is very responsive trainer. It tends to shine best with uptempo running as the the cushioning is plentiful but very much on the firmer side. It does ride more like a trainer thanks to the 9mm drop, which feels very much like what it is.
The transition is where things get a bit rocky. 361 is slowly increasing their heel bevel, so rear landings are smoother than previous. The forefoot has QU!K-Flex, meaning there are extensive flex grooves there, making for an incredibly smooth toe off. There is some toe-spring present, which combined with the forefoot flexibility means you easily roll forward on the toes. The midfoot now is full ground contact, which definitely improves the transition and stability now that the Spire 3's outsole is in complete contact with the ground. However, it is still incredibly stiff thanks to the decent amount of midsole combined with the carbon fiber plate. During fast paced fartleks or uptempo running this feels great, but for slower running the shoes feel a little too stiff.
Again thanks to the carbon fiber plate, there is very good stability at the midfoot. Mostly because there is almost zero midfoot mobility. There is no posting as this is a neutral trainer, but for those with additional mobility in their midfeet, the carbon fiber plate may help add some rigidity for stabilization.
As I mentioned with the previous version, the Spire 3 is a GREAT shoe for forefoot strikers. There is ample QU!CKFOAM in the forefoot, especially at the lateral side, for those that land hard in that area. The forefoot flexibility also makes this a very smooth trainer for those that land up there. Forefoot strikers will not have as many problems with the stiff plate and may find that it only adds to their speed as the pace picks up. This is due to engaging more of the midsole with increased force from increased speed.
SPEED
Speed wise the Spire 3 is on the higher end for a neutral trainer. Not because of the 10.4 oz weight, but because of the carbon fiber plate. Which is odd to have in a trainer. However, the Spire 3 shines with fartleks, uptempo long runs, hill repeats and for those who need some extra cushion but want some speed, marathon distance races possibly. For those who are too nervous to run in marathon racers (Adios, Streak, Vaporfly, Razor, Chaser, etc) or lightweight trainers (Razor, Boston, Zoom Elite, KgM2, etc), this would be a good shoe to use as it still gives you a hint of speed. For slower runs, the midfoot is a bit stiff, but as mentioned earlier may provide some additional stability in a non-posted way for those who need it.
DURABILITY
While the carbon fiber plate and QU!CKFOAM definitely maintain the ride of the shoe, the outsole is wearing a bit faster than I would like. After 50 miles, I am already starting to see some wear in the forefoot and posterior lateral heel, but not enough that concerns me. It is enough that I would not expect to get any more than 300-500 miles out of the shoe. However, thanks to what I mentioned above, I am fairly certain the ride and feel of the shoe would stay almost exactly the same over the lifetime of a pair of Spire 3s. The cushioning still feels like it did on the very first day, which is very characteristic of QU!CKFOAM. Seriously, that foam never seems to die and I have to retire shoes from 361 more because I am worried about possible biomechanical issues from excessive outsole wear patterns than I am from any change in the ride.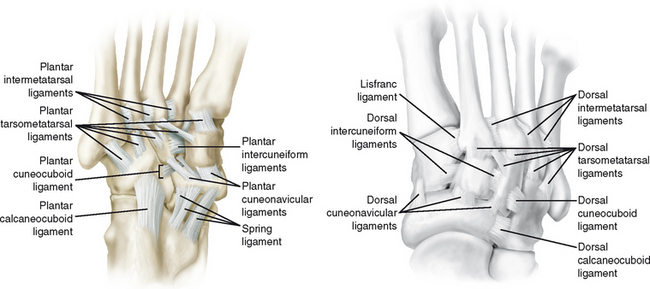 Image from www.radiology.com
THOUGHTS AS A DPT
I like carbon fiber plates. I think they are cool and make me feel fast, especially as someone who used to run somewhat quickly around the track in spikes. However, I think they are better placed in thinner soled shoes, where there is enough flexibility to actually engage the plate. With the Spire 3, I notice that you have to put a decent amount of force through the sole to actually get the sole and plate to bend and give you that kick that these plates are known to give. So heavier runners and those with very hard footstrikes may engage the plate much better than someone with a lighter footstrike.
Image from www.studydroid.com
The midfoot does have an extensive number of ligaments both proximally between bones and over the entire area. The larger ligaments include the spring, long and short plantar ligaments. The largest being the long plantar ligament. These are all covered by the plantar fascia, which is not considered a ligament but does provide a decent amount of passive (or active if you think about fascial lines and movement patterns through the gastrocsoleus connection) stability to the foot. The thing about ligaments is that they do need to have some give. If they are completely rigid, you have a rigid foot that does not pronate, which means you may have poor shock absorption. This can put you at risk for bone related stress injuries due to the lack of mobility allowed for muscular loading via mobility of the midfoot. So yes... you do need mobility of your foot and you do need to pronate a little. It is natural. Like anything in life, a mild to moderate amount is best, while too much or too little may cause problems (or may not depending on what research article you read). So when it comes to carbon fibers plates in midsoles, yes you need some flexibility. You need some flexibility for the foot to move and some flexibility to engage the plate. With the Spire 3, I would suggest loosening up the plate a little smooth out the ride a little bit. Or put a smaller one in there. Better yet, take it out of the Spire 3 and put it in the KgM3 or Feisu 2. Those shoes are already fast, but thanks to the thinner midsoles would engage the plate better. Just food for thought if the footwear developers at 361 are reading this.
CONCLUSION
For those with narrower feet that land farther forward looking for a responsive trainer that works when you need an easy run or to pick up the pace, the Spire 3 is a great choice. The QU!CKFOAM midsole combined with the carbon fiber plate definitely adds some speed to this shoe, but mostly at higher paces. You could think of this as a Neutral Trainer with some long distance racing whispers. The full ground contact outsole improves the transition of the ride, but the carbon fiber plate adds more rigidity to the sole that will work well for those that need a little extra midfoot stability without a post. Overall this is a good update and demonstrates that 361 is heading in the right direction. Now they just need to widen that toe box a bit.
Thanks for reading!
Editor's Note: As always, the views presented on this website belong to myself or the selected few who contribute to these posts. This website should not and does not serve as a replacement for seeking medical care. If you are currently injured or concerned about an injury, please see your
local running physical therapist. If you are in the Los Angeles area, I am currently taking clients
for running evaluations.
Dr. Matthew Klein, PT DPT OCS
Doctor of Physical Therapy
Board Certified Orthopedic Clinical Specialist
Kaiser SoCal Manual Therapy and Sport Fellow
***Disclaimer: These shoes were provided free of charge in exchange for a review. We thank the people at 361 for sending us a pair. This in no way affected the honesty of this review.
We put at least 50-75 miles on trainers and 10-25 miles on racing flats prior to reviewing them. Currently I have 52 miles on my pair. My views are based on my extensive history in the footwear industry and years testing and developing footwear. If you are a footwear rep looking for footwear reviews or consultations on development, we are currently looking to partner with companies to assist, discuss and promote footwear models. Partnership will not affect the honesty of our reviews.
Like and Follow Doctors of Running
Please feel free to reach out, comment and ask questions!